Deze post heb ik geschreven in 2014, nadat ik drie maanden gereisd heb door Japan. Hier sta ik op het punt om opnieuw een sprong in het diepe te wagen. Sorry, deze heb ik nog niet vertaald naar het Nederlands.
Life's choices
Hi there! It's been a while since my last post about Japanese pottery and Wabi sabi.
The reason was operation declutter. I cleaned up my huge book collection, teddy bears, school reports, my baby clothes, kitchen ware, house decoration and so on. To make extra money by selling stuff, but also to get rid of unnecessary things.
I considered the idea of living a simple, uncluttered life with less stuff. And found out that I consequently had less to clean, less debt, less to organize, less stress, more money and energy for my passions.
My goal was to go back to Japan for the second time a few months after I returned from my first Japan experience. A while ago I never thought, this could be possible.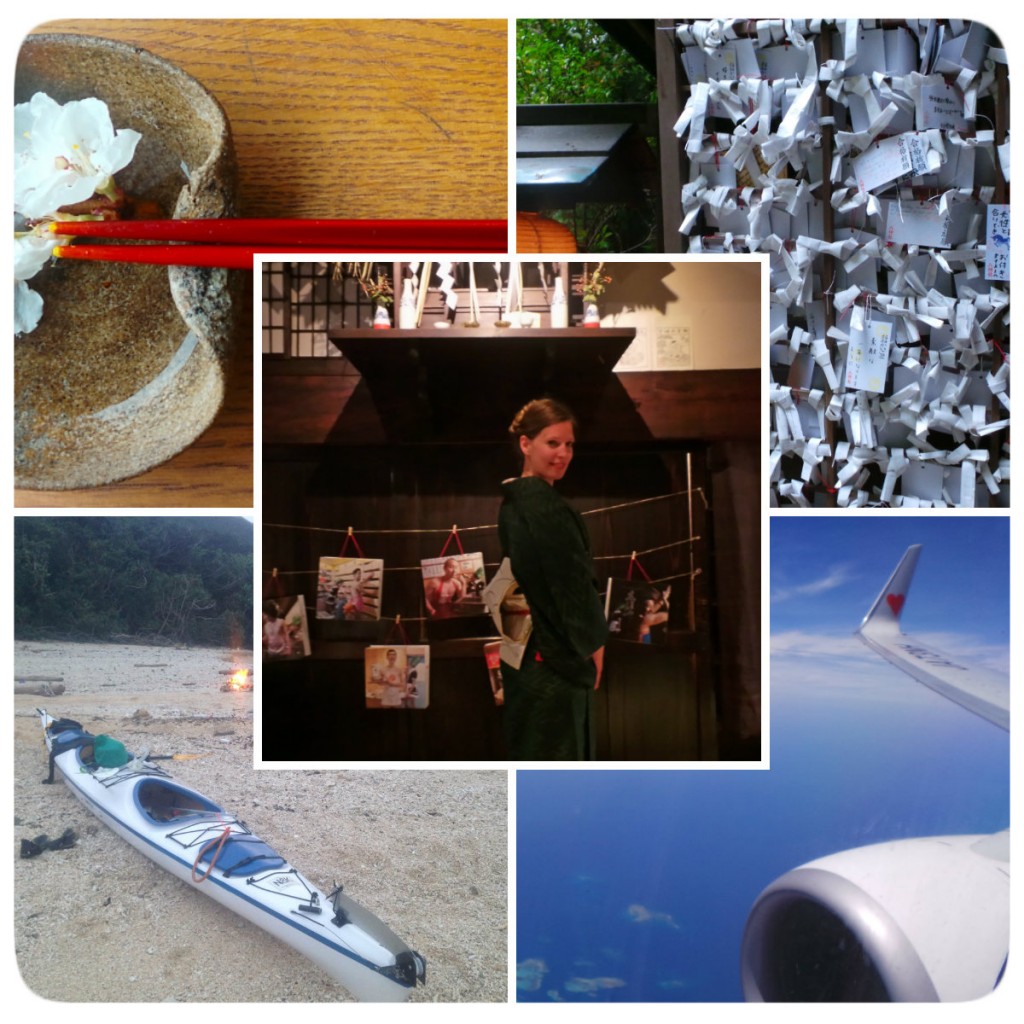 A short step back in time: fortune slip
In my posts about Japan I tried to show you some hidden parts of this interesting country. I wrote about taking a plunge at Kyoto's love shrine and choose the best fortune slip, number 96. I also found my way from one love stone to the other with a little help. If it's coincidence, luck or faith, I don't know. But good things happened.
Ending up in Ishigaki, Japan
After a few weeks of wonderful experiences and keeping my fortune slip in my purse as a lucky charm, I had some time left to visit an island to relax, enjoy the sun, have a swim and write about my experiences on the main island. Some of the Japanese people I met, recommended Okinawa and the Ryukyu islands. Islands with a typical culture and language, different from main island Japan.
One of the Blue zones, with the world's longest lived people.
After a short search I booked with Airbnb on Ishigaki, one of the 98 volcanic and subtropical Japanese Ryukyu islands, second largest island of the Yaeyama island group and the remotest part of Japan from the main islands.
In the airplane, I was pleasantly surprised to have this view.
I arrived at happy island, Ishigaki, and I tasted the cherry on the pie! I never thought about Japan like this. A tropical heaven with, again, good food, friendly people, beautiful sightseeing spots and creative inspiration.
L.O.V.E.
It's not for the interesting culture, the amazing food experiences, nature or the culture shock. No. The reason for me to return to Japan is:
 Love
And so I did. I'm back in Japan. In tropical atmospheres, with secret beaches, strange animal noises at night and cars looking like Lego cars.
My mysterious fortune slip is still in my purse. What influence did it have on the decisions I took….Interesting, don't you think?