Deze post heb ik geschreven tijdens mijn eerste kennismaking met Japan in 2014. Inmiddels is mijn website vernieuwd, maar het leek me leuk om mijn oude posts te bewaren en een kijkje te geven in de stappen die ik gezet heb. Vanuit een moeilijke tijd, een sprong in het diepe met angsten, nieuwe ontdekkingen en ervaringen, blijdschap, wederom afscheid, liefde, vriendschap, avontuur en creativiteit. Sorry, deze post is nog niet vertaald in het Nederlands.
Sugoi!! (Wow!! In Japanese)
Japan is such a fascinating country. And so different from the Dutch way of living. Every Japanese sliding door welcomes you to a new wonderland. For example these lovely traditional Japanese flip flops (geta). Which I noticed before entering a Japanese house.
Geta are a mix between flip flops and clogs. Maybe the Dutch and the Japanese have more similarities than we think?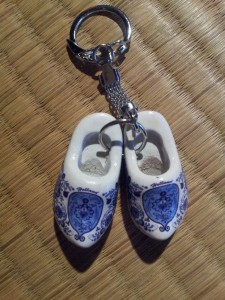 The first two weeks were really crazy, Tokyo is a remarkable city. So much to explore and my mind was like a full and turning washing machine. Fortunately there is lots of nature in Tokyo to find some rest and I discovered the typical Japanese sense for detail and aesthetics. Like this: a hairdresser's delicate trim of an old pine tree in Hama Rikyu Garden. Pine trees are taken as good luck. A symbol of long life and immortality.
The Hama Rikyu Garden is situated alongside Tokyo Bay. An English audio guide is available. The contrast between the stillness of the garden and the huge skyscrapers made me feel tiny.
The aesthetic sense is not represented everywhere though. Billboards in screaming colors are asking the passengers attention. Maybe others love it.
There are so many billboards and colourful lights that the actual message is not clear sometimes. A restaurant could be somewhere on top of a building, which is not recognised outside. You might have to take an elevator, enjoy a walk through a hidden path and take a staircase or two before you find a beautiful food paradise behind sliding doors. For a foreigner it's often a puzzle to arrive at a specific place. Nevertheless, that's part of the unique Japanese atmosphere.
Tokyo is a design paradise. It's a mix between old buildings, concrete, lots of wiring, new techniques, history, 'just do it' ideas, wooden houses, design toilets, funny English brand names, old traditions, temples, tea houses and design buildings (ow and really good pastry shops). And more.
After Tokyo, Suzaka (near Nagano in the silent and beautiful Japanese mountain side) was a peaceful village to stay. The first day I arrived, I had a perfect welcome with wild monkeys in the garden and a singing nightingale. The next day I met a Japanese mountain goat (Kamoshika), which is a very friendly, funny and relaxed animal.
It's seen as a national symbol of Japan. They often play a big role in Japanese stories. And it brings luck. I also met a lot of little frogs and one large guy.
According to Japanese people they bring luck as well. They seem to bring something back to you. Or is it a prince? Curious about all the lucky symbols! What or who made you feel lucky today?